"Innovative Learning Approaches for Implementation of Lean Thinking to Enhance Office and Knowledge Work Productivity"
2016 - 2018
International project co-funded by the Erasmus + Programme of the European Union
Project number 2016-1-PL01-KA203-026293
Project Website
http://ilalean.w.prz.edu.pl/en/

Project presentation in:
Polish Norrvegian Italian Finnish Portuguese
PROJECT PARTNERS

(1) Politechnika Rzeszowska – Poland – coordinator

(2) Universitetet i Stavanger – Norwey

(3) Centoform srl – Italy

(4) Universidade do Minho – Portugal

Project: http://www.dps.uminho.pt/
(5) University of Oulu – Finland

(6) Latino Group – Portugal

(7) Salte AS – Norwey

(8) PPiH Restol Sp. z o.o. – Poland

PROJECT AIM
The ILA-LEAN project aims at developing didactic materials to improve knowledge concerning the implementation of Lean Thinking in the workplace. Most companies are aware of Lean Thinking, but it is generally usually only in practice in the production area. Many companies, however, have realised that there is much waste in other areas of the company such as in offices, therefore the knowledge and identification and thus elimination of waste would also be beneficial in these areas.
NEEDS TO BE ADDRESSED
Lack of appeal of the existing training tools based on a playful didactic approach
Lack of flexibility/portability in existing training tools for learning on the go.
SPECIFIC OBJECTIVES
Increase the cooperation among educational institutions and enterprises in EU for better employability
Increase the synergic use of up-to-date technologies, in an integrated way, with a team work approach and personal development
Improve the effectiveness of teaching and learning of vocational contents on lean in Office and Knowledge of how it works and the workplace
Increase the opportunity for distance learning
Upgrade and innovate existing training tools
PARTNERS' LOCATIONS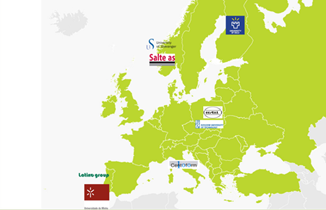 PROJECT OUTPUTS
Tablet course concerning Lean implementation in Office and Knowledge of how it works and the workplace
A set of didactic games concerning Lean implementation in Office and Knowledge of how it works and the workplace
Teacher/trainer manual showing how to lead the games
The ILA-LEAN Project focuses on two training methodologies:
Gamification: a training methodology focused on the learning process for the individual. Direct experience plays a very important role in the learning process, and learning through reflection on doing is, according to our teaching experience, effective and adequate to learners. One of the project output is a set of games on Office and Knowledge of the Workplace, which will simulate real-world events and processes designed for the purpose of teaching through the methodology of "serious gaming". This methodology targets a large variety of audiences, including students and professionals.
Learning on the go: learning can take place almost anywhere if the learning materials take the form of tablet courses. Modern life is becoming more and more stressful, it is difficult to find time to sit down and dedicate an hour or two to learn a new subject or to refine a skill. The second project output, a training course designed for tablet application, is also developed for a large variety of audiences, from students to professionals, easing the possibility of learning in any moment of the day. Up-to-day technologies (tablets, smartphones) enable implementation of new ways of learning and this project will take advantages of using new technologies to reach large number of beneficiaries.